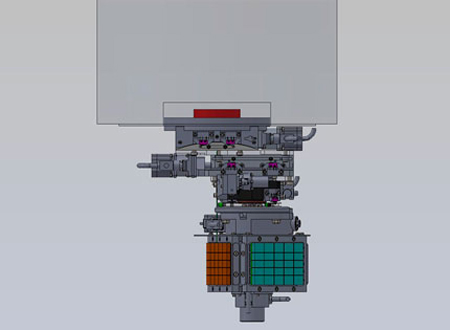 KARLSRUHE INSTITUT / CEA - LLB
Exchange unit for 3 different monochromators HOPG - Cu (220) - Cu (111) variable vertical focusing and fixed hoizontal focusing by means of one stepping motor and one encoder
A) Monochromator: alignment of the crystals: CEA - LLB
B) Turntable - for the exchange of the 3 different monochromators
C) Linear table
D) Cradle goniometer
E) Turntable - Bragg-angle
Reference persons:
- Dr D. Lamago - Dr F. Weber / P. Boutrouille - C. Meunier - Dr. Yvan Sidis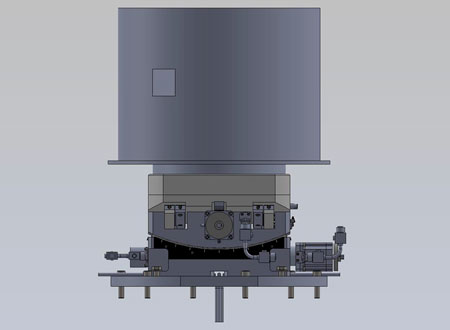 Instrument Double Cradle Goniometer for Cryostat - CEA / LLB
The double cradle goniometer is a precise device to orient a sample in a limited range +/-20° in two mutually perpendicular vertical planes. It's size and High load carrying capacity.

The cradle can be combined wih other components, such as the turntable, producing a device with three degrees of freedom the rotation.
Mounting by cleats and hex head screws utilising groove in the base plate.

Available either in non-magnetic material.

The drive is achieved either by stepping motors - when driven by motors each drive is provided with two limit switches. Suitable for encoder adaptation on the movement of tilt.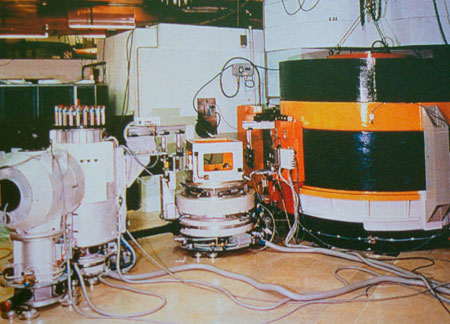 TAS - ILL - IN20 (Photo attached) - Dr R. Pynn - Dr R. Currat - Dr J. Kulda

IN1B - ILL - Dr A. Ivanov

TAS IN22 - CEA Grenoble - Dr L.P. Regnault

PANDA - FRM2 - Dresden University - Dr N. Pyka - Dr P. Link

Diffractometer D23 - CEA Grenoble - Dr E. Ressouche